Canoil Full spectrum CBD Oil. The latest CBD Oil on the market. Full spectrum rich in CBD, CBN, CBG, CBDV, THCV and not containing THC. Exactly as Mother Nature intended! Available in different percentages!
Canoil CBD Raw Full Spectrum Oil
Canoil CBD Raw Full Spectrum oil comes from a unique specially developed plant that contains a large number of cannabinoids, terpenes and essential phytonutrients, specially grown for high concentrations of CBD, CBDV, CBG, CBN, and THCV. This Full Spectrum Oil is the first on the market that does not contain THC.


Canoil CBD Raw Full Spectrum oil is made by supercritical CO2 extraction. Unlike many other CBD oils, Canoil CBD Raw Full spectrum oil is made from just the hemp tops and not from the stems and/or branches of the hemp plant. This specific hemp plant has been grown, harvested and processed into a complete extract of cannabidoids, terpenes and essential phytonutrients. We include a premium hempseed oil.

Extraction
Canoil Raw Full spectrum oil is made by means of the supercritical CO2 extraction method. There are 4 methods by which this can be done, namely, oil extraction, alcohol extraction, ultrasonic and Supercritical CO2 extraction.


Canoil chooses to extract the CBD from the plant by means of "Supercritical CO2 extraction" this is a very clean, safe method which, unlike oil and alcohol extraction, requires few to no additional steps after the extraction process. There is immediately a very pure (Raw) oil from the machine. This is in contrast to toxic solvents, which may take many hours to suck up the solvent trapped in the oil. It needs many more steps to come to the same product. In addition, oil extraction requires the product to be heated so that not all nutrients are retained.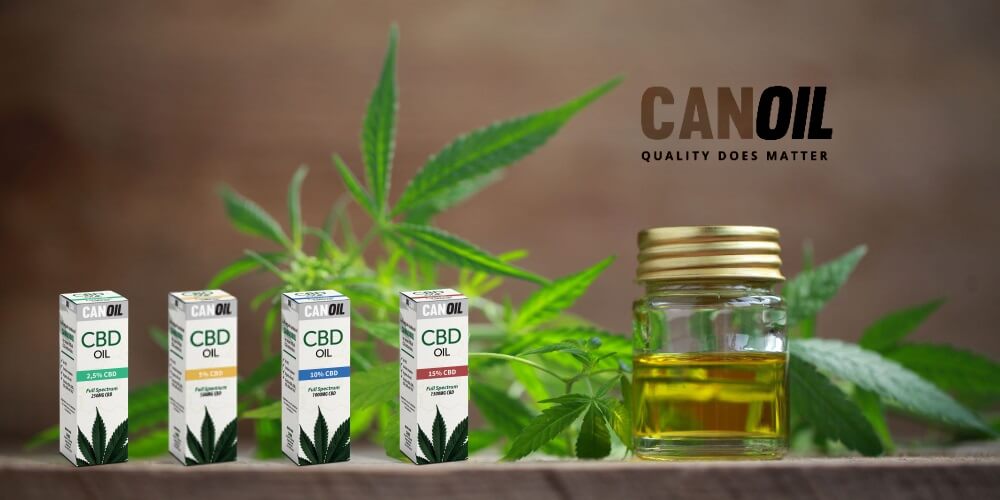 What does Canoil mean by Raw Full Spectrum CBD oil?
Many brands now use this term as well, but they are also an extract of a plant or CBD Isolate has been used to which a mix of different cannabidoids has been added. For Canoil, the plant itself is the architect of the oil. After all, it is about the synergy between the various cannabinoids. Medical science tries and has already developed medicines with isolated cannabinoids such as CBD, however, it turns out that it is nature's interaction with all its different cannabinoids that gives the best results. And unfortunately, nature's complexity does not allow itself to be copied just like that. It is precisely for this reason that we are convinced that we must use the Full Spectrum of this entire plant and can therefore only choose a supercritical CO2 extraction method.

Production and extraction
Canoil CBD Full Spectrum oil is produced under license. This specific plant with its high cannabidoid content may be grown, grown and processed by only one company.
Several Cannabidoids
Cannabinoids are the substances that occur in the resin of the cannabis plant. Each of these substances has its own effect and works together in the human body. When the cannabinoids enter the bloodstream, they are transported to the brain where they fit perfectly with the CB1 and CB2 receptors. These receptors regulate as it were all the cells in the body and therefore this works against so many different complaints and diseases.
CBD

Cannabidiol. This is one of the most common Cannabinoids of the Cannabis plant. Many scientific studies indicate the positive effect of this substance. This non-psychoactive component reduces the effect of THC, which is psychoactive. CBD is getting an ever longer list of medical conditions in which CBD has a positive effect. It has been shown that CBD can help to reduce chronic pain, migraine, inflammation, arthritis, epilepsy, anxiety and rheumatism.
CBN

Cannabinol. Can stimulate light feelings of Euphoria and soothe. This soothing effect also gives an anaesthetic and analgesic effect. Contrary to regular pain medication, CBN has no negative side effects. CBN also has a strong anti-bacterial effect. In addition, many researchers indicate that CBN can combat nausea and contribute to the whole of bone fractures.
CBDV

Cannabidivarin. This cannabinoid is still in its infancy in terms of science. Several studies indicate that this cannabinoid has shown potential in three major research areas.
Epilepsy - reduction of attack activity.
Nausea reduction of nausea
Bone growth - stimulates the production of new bone production.
THCV

Tetrahydrocannabivarin. This cannabinoid is not psychoactive like its brother THC, but rather inhibits it. Various studies have shown that THCV can have a positive effect on diabetes, weight loss, Parkinson's disease, brain cell support and lowering blood pressure
CBG

Cannabigerol. This cannabinoid is seen as a building stone for other cannabinoids. In addition, Italian researchers have shown that CBG inhibits inflammation. This is especially true for bowel diseases such as Crohn. Has a calming effect, is against the growth of tumours and against the symptoms of Glaucoma.